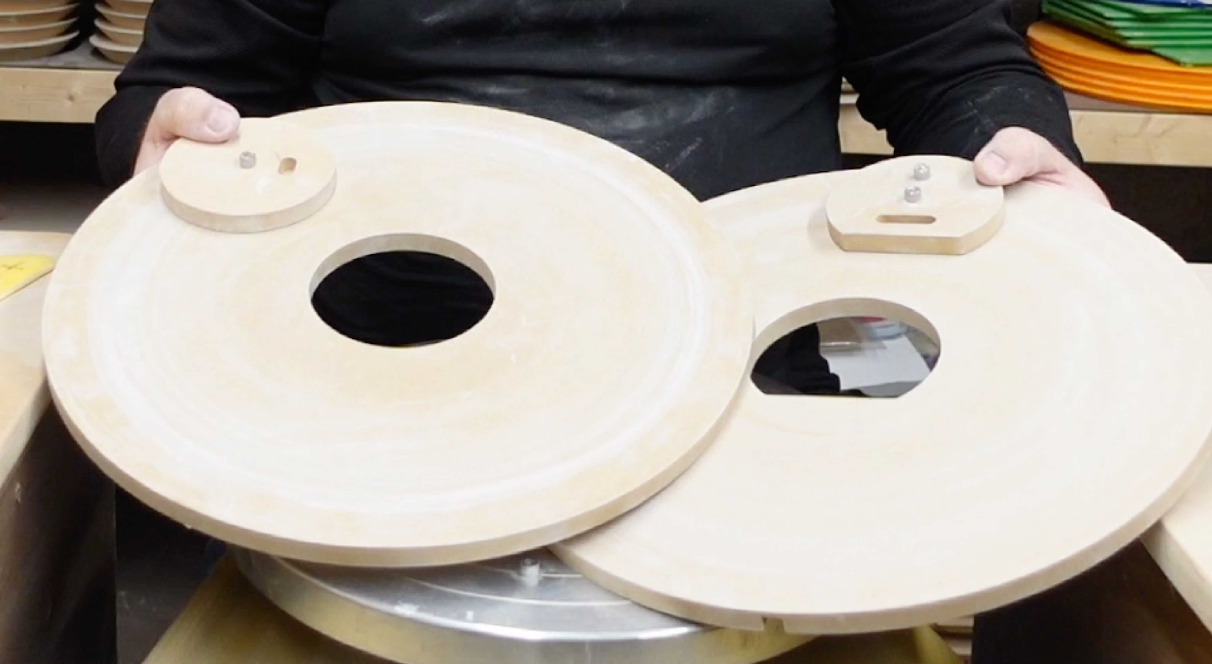 WA1 VS WA2 and How to use them Interchangeably
Learn the difference between the original WA System and the New WA Phase 2 and how you can use them interchangeably!
The New RD2 Forms assist you in creating elegant formal style dinnerware, using either our new WA2 or the original WA System.
WA1 vs WA2
The difference between the WA1 and the WA2 is that the WA1 has only one pin and the Spacer in the center is circular so it will spin inside of itself, whereas the WA2 has a locking Key system which is circular with a flat side so it will rotate with the board instead of spinning inside of itself like the WA1 does. The WA2 also contains two pins which helps the RD2 Form to lock to it. The beauty of the new WA2 system is that you can now interchange between the two systems.
To interchange the WA1 with the WA2 System, you need to purchase the WA2 Key. You will then insert the WA2 Key into the WA1 center hole and add a little bit of clay to that gap (see below image for example).
This will now do essentially the same thing that the Key would do with the WA2 but allows you to use the original WA System.
If you wanted to use the old Round Forms with the WA2, you just need to remove one of the pins on the Key and it will work with the new system. You would also need to remove one of the Key pins if you wanted to use a Rim Template with the new RD2 Forms as well.
RD2 Forms: 
The RD2 Forms work with both the WA1 and WA2 System. They come in two different sizes, 9" for a salad plate and 12" for a dinner plate. They have a nice smooth edge transition which allows you to make elegant, smooth plates. They aren't able to stack with each other like our other Round Forms.
Check out this video for a tutorial on how to create a plate using the new RD2 Forms and the original WA System. Please contact us if you have questions about using the new WA2 System or visit our Youtube channel for other tutorial videos.